Balance Sheet is the statement of assets, liabilities and the shareholder equity for a specific time period and the Income statement is the statement of company's revenue and expenses for an accounting period.  They are different from so many points which we are going to discuss below in detail with key difference between Balance Sheet and Income Statement.
Balance Sheet:
Balance Sheet is a type of financial statement which shows the current condition of a company which also illustrates the company's book value. It also refers to the company's current worth at given point. It shows the business assets, liabilities and the company's shareholder equity. It is prepared on the last day of the year and the net balance which is derived from Balance Sheet is transferred to the Capital Account.
Difference Between Balance Sheet And Income Statement
Income Statement:
Income Statement refers to the financial statement of a company that reports the financial position for a specific period of time. It is a type of statement that reflects the position of a specific company that shows that whether the company is going in a profit or loss with respect to financing such as revenue and expenses due to which is also called the Profit and Loss Account. For further detail information must read the below listed key difference between Income Statement and the Balance Sheet.
check out: Difference Between Debit Card And Credit Card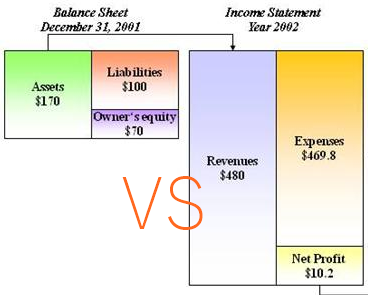 Key Difference between Balance Sheet and Income Statement
Following are the main points that clear the key differences between Balance Sheet and Income Statement.
| | |
| --- | --- |
| Balance Sheet | Income Statement |
| Balance Sheet is referred to the financial or income statement which shows the revenues and expenses in summarized form for a particular accounting period | Income Statement is a type of financial statement of a company which shows assets, liabilities, and capital on a given date |
| Balance Sheet is prepared on the last day of the accounting period | Income statement is prepared for an accounting period |
| Accounts are transferred to Balance Sheet are not closed | Accounts are transferred to Income Statement are closed |
| Balance Sheet shows the financial position of a business | the income statement shows that how profit is earned and how expenses are incurred by a business |
| Balance Sheet consists of assets, liabilities, and capital | Income Statement consists of income and expense |
| The balance which is derived from balance sheet is transferred to capital account | The balance which is derived from balance sheet is transferred to capital account |