Democracy and dictatorship are the two political regimes and are entirely different from each other. These two systems of governance are arisen or emerged in the 19th century. In democracy system the eligible candidates are elected by the process of elections are able to hold the public office according to the terms specified in the constitution of law whereas the dictatorship means the rule of powerful group or persons on whole nation with any permission or law. Here below you can easily find the detail difference between Democracy and Dictatorship in Pakistan. Keep reading this article till the end will definitely help you in this regard.
Democracy:
Democracy is referred to the system of Government by the whole population or all the eligible members of a state, typically through elected representatives. In a democratic system, people have freedom of speech, expression, and selection whereas in dictatorship these are sacrificed. Democracy brings peace, harmony and helpful in making relationships between people and with other countries. The democracy is very helpful in making good relationship with the other countries and the representatives of the political parties make rules, regulations, and policies for the people of a country in order to bring harmony and peace among the people of the country.
Difference Between Democracy And Dictatorship In Pakistan
Dictatorship:
The dictator is the central place of the government and has full authorities and powers of decision making without the consent of any other person. In a dictatorship, the people of the nation sacrifices the freedom, expression of opinion, and liberties. There is the number of dictatorships divided into so many categories such as civil-military dictatorship, military dictatorship, one-party state system, hybrid government system and personalist government system. We can say that low crime rate, more employment opportunities, and quick regression are the main advantages of dictatorship but on the other hand, there are so many disadvantages of dictatorship such as freedom of expression, selection, and speech. For additional information must read the key difference between Democracy and Dictatorship.
check out Difference Between MPA And MNA In Pakistan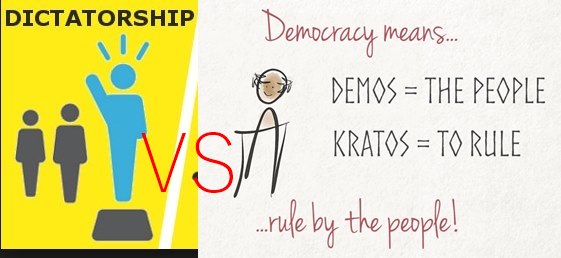 Key Difference between Democracy and Dictatorship:
Here are the following major points from which you can easily distinguish between Democracy and Dictatorship in Pakistan.
| | |
| --- | --- |
| Democracy | Dictatorship |
| In a democracy people have right to freedom of expression and speech | dictatorship the dictator controls the lives of people |
| In a democracy every country tries to strive for favorable and better relationships with other countries | dictatorship the country economically suffers badly the major reason is that no one wants to make relation with a country ruled by a dictator |
| Democracy brings peace, harmony and helpful in making relationships between people | Dictatorship plays opposite role |
| In a democracy the representatives of the political parties make rules, regulations, and policies for the people of a country | Dictatorship there is no concern of these formalities |
| In a democracy the focus of government remains on privatization | Dictatorship the focus of government is on nationalization |
| Democracy deals with paperwork and formalities | Dictatorship plays a better role than democracy because the dictatorship has more practical approach regarding solving problems |